For class A, B and F fires, F-Max wet chemical extinguishers are a must in any commercial kitchen with deep fat fryers. Moyne Roberts offers a true wet chemical unit with a fast acting solution.
These extinguishers feature quality valves and high fire ratings. Squeeze grip design for enhanced discharge control and low velocity nozzle for optimal droplet size and prevention of splash back. Easy-clean design for kitchen environment. Large diameter neck rings for easy inspection.
Wet Chemical Extinguishers are available in these models
| | | |
| --- | --- | --- |
| MFW-20 | 2ltr Fire Rating 5A/34B/40F | sheet |
| MFW-30 | 3ltr Fire Rating 13A/75F | sheet |
| MFW-60S | 6ltr Fire Rating 13A/113B/75F | sheet |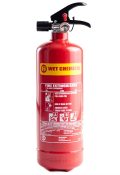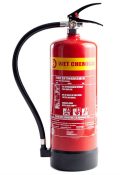 ---
For more information about our wide products range please contact us.