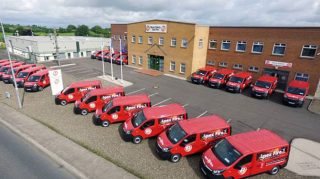 Featured in Independed.ie
Link to full article – http://www.independent.ie/life/motoring/car-news/why-these-are-the-perfect-vans-for-our-businesses-35490324.html
Apex Fire has just featured in a special report in the motoring section of the Irish Independent, on the reasons why some of Ireland's busiest and most enterprising companies chose certain makes of vans for their fleet.
Our Managing Director, Declan Kelly, tells in the piece how Apex Fire uses Opel vans, for reasons including fuel efficiency and payload capacity when transporting large amounts of heavy equipment.
We currently have a fleet of more than 60 vans. This is almost double what we had a year ago, as we added 28 Opel Vivaros to our fleet last August as part of our continued expansion. And our fleet is set to soon grow even bigger, as we have recently placed an order for a further 23 vans.
Our growing fleet means we are in a better position than ever before to respond to all client needs, wherever they are in Ireland. Just contact us to get us to work for you!
Here's the Apex Fire section of the special feature:
[…]
OPEL/APEX FIRE CAVAN
When dealing with fire protection and detection is your everyday job, you expect and demand the best equipment as a matter of course. When it comes to vans, Declan Kelly, managing director of Apex Fire, puts his trust in Opel.
Apex Fire Ltd, whose HQ is at Moynehall, Cavan, is a one-stop shop for all protection/detection and certified training needs. As part of the Moyne Roberts Group, one of Europe's largest producers of fire extinguishers and hose reels, it has depots in Dublin, Cork, Limerick and Galway, with representatives in every county.
Currently operating more than 60 vans, the company added 28 Opel Vivaros and Combos to its fleet in August 2016. That link will be strengthened further as it has placed an order for an additional 23 Opel vans through HB Dennis Leasing.
Declan says the Opels make sense on a number of fronts. "We've noticed a significant improvement in fuel efficiency compared with some of the vans we were using previously."
Having to carry lots of heavy equipment, payload capacity is always a concern; here again Declan says the Vivaros come up trumps, being able to carry around 200kg more than similar-sized vans.
Fitted with satnavs, and bearing the new company logo, the vans are fitted with parking sensors which Declan describes as being a big benefit in aiding safer driving. "Feedback from the drivers was very important in our decision to continue using Opel."
In September last year, Apex Fire achieved accreditation against the prestigious Investors in People standard which recognises the role of an excellent employer and place to work among other key attributes. Apex Fire is currently recruiting, with vacancies for fire safety trainers, and fire alarm and fire extinguisher technicians (info@apexfire.ie).
[…]