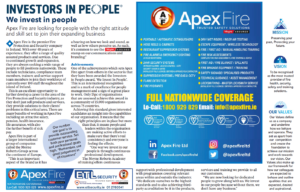 Apex Fire is the premier Fire Protection & Security company in Ireland. With over 48 years of experience, we offer a range of
quality assured products and services. Due to continued growth and expansion, we are always seeking a wide range of positions nationwide such as technicians, compliance team members, trainers and service support team members to join our workforce of currently over 100 staff throughout the Island of Ireland.
This is an excellent opportunity to further develop a career in the area of the Fire Protection & Security industry as we don't just sell products and services, we provide the solutions to our clients' problems in this critical area. There are many benefits of working in Apex Fire including an attractive salary, pension, health insurance, life assurance, with also the further benefit of sick pay.
Apex Fire are part of a larger international group of companies called the Moyne Roberts Group across the continent of Europe. This is an important aspect of our brand as it has a bearing on how we look and sound, as well as how others perceive us.  As such, it's common to see the Moyne Assured stamp on our communications and branding.
One of the achievements which sets Apex Fire Limited apart from others in our sector is that we have been awarded the
Investors in People award "We Invest In People". This is an international recognition and is a mark of excellence for people
management and a sign of a great place to work. Only 15pc of organisations which are assessed achieve this award in a
community of 15,000 organisations across 75 countries.
Achieving this standard gives interested candidates an insight into the capabilities of our organisation. It means that the right
principles are in place but more than that, it means people and leaders within the organisation are making active efforts to make sure that there's real consistency and everyone is feeling the effects.
One way we invest in our people is through continuous professional development. The Moyne Roberts Academy of training offers
continuous support with professional development with programmes covering relevant areas within and outside the industry.
We dedicate ourselves to the highest standards and to also achieving third party accreditation be it in the products,
services and training we provide to all our customers.
We are now looking for dedicated people to grow along with us. We invest in our people because without them, we don't have any business."
For more information on the roles available,
visit www.apexfire.ie or email hr@apexfire.ie