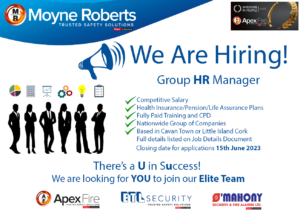 Moyne Roberts Ireland Group (and our affiliated companies) is Ireland's leading provider of fire protection, detection, training & security products & services. Due to our continued expansion strategy, we have a new and exciting role now available as a Group Human Resource Manager.
About the Role:
Our successful candidate will have the full responsibility for leading the HR function, providing support throughout the current Group of companies in the Republic of Ireland. This will involve implementing new initiatives, to manage HR strategy, HR policies, and employee relations. This is a senior role within the Moyne Roberts Ireland Group working with over 130 colleagues and our plans are to continue to grow this number. We now require an experienced individual who is a team player, who is adapt at operating effectively with a significant amount of autonomy.
Main Roles & Responsibilities:
Establish best practice in HR processes and procedures ensuring compliance with current employment law and any future changes.
Advise line managers on interpretation and application of HR policies and employment legislation and recommend appropriate action.
Provide up to date information and guidance on HR policies and procedures relating to performance management, disciplinary, complaints and grievances procedures.
Provide oversight on accurate recording and processing of employee information on HR information systems (Sage).
Develop and implement best practice in recruitment and selection processes and partner with hiring managers to hire great talent.
Manage induction and onboarding for new employees incorporating our company value framework and code of conduct in this process of all new colleagues joining the business.
Partnering with the finance team on updating information on terms & conditions, ensuring payroll accuracy, and managing all HR costs.
Assist managers in coordinating annual performance appraisals and probation processes.
Conduct staff engagement surveys, develop and coordinate follow up actions.
Manage third party services that support the HR function, such as recruiters and employment law specialists.
Drive change management and provide transformation expertise to meet business changes, to include delivering key HR projects as required.
The successful candidate should meet the following essential criteria:
▪ A Third level qualification in HRM, Business or similar. CIPD qualification is preferred.
▪ An excellent practical knowledge of Irish employment legislation, policies, procedures in line with recommended codes of practice.
▪ Be approachable, personable, energetic with the highest standard of integrity. A people person with a growth mindset, accessible and open to our team members, always willing to listen, assist and support.
▪ Attention to detail, commercial awareness with a pragmatic approach to problem solving.
▪ Proactive by nature, a self-starter, organised, innovative and results driven with the ability to manage multiple assignments in a dynamic, fast paced environment.
The renumeration packaged being offered for the role:
▪ Competitive salary, negotiable depending on experience.
▪ Annual Monetary Welfare Package towards – Health Insurance, Pension, Life Assurance: T&Cs apply.
▪ Time served basic salary increases.
▪ Extra holidays for length of service (up to 8 extra days above statutory).
▪ Annual staff uniform allowance.
▪ Fully Paid training & development opportunities: T&Cs apply.
▪ Non-Absentee bi-annual tax-free Bonus voucher paid at end of each year.
▪ Free employee parking.
▪ Free annual flu vaccine and 3 yearly health screening after 1 year of service.
Location:
As a nationwide organisation we have several offices throughout Ireland, our successful candidate would ideally be working from our HQ offices in Moyne Hall, Cavan town, however there will be the opportunity to allow the newly appointed HR Manager to work from our new Cork offices & warehousing facility located in Little Island industrial estate from August 2023 onwards.
Please email CV to HR@apexfire.ie

---
If you are interested in any of the above positions, please get in touch with us by filling out the form below.
HR Manager Ad