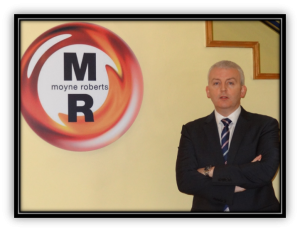 We would like to congratulate our Managing Director of Apex Fire/Moyne Roberts Mr. Declan kelly on his recent appointment as Chairperson of the fire services equipment advisory group – TC16 WG 3, within the Fire Safety Standards Committee (FSSC) of the National Standards Authority of Ireland (NSAI).
Declan has been a member of  working group 3 since 2008, representing the Moyne Roberts group and has previously worked on developing, amending and updating Irish & European Standards in the area of fire safety equipment such as Irish Standard 291 for Portable Fire Extinguishers in 2015 and its amendment now due in 2020, to various manufacturing requirement standards in the European series EN3 parts 7 & 8, along with the new edition of a Fire Blanket manufacturing standard EN1869:2019. Declan also currently chairs a committee developing a new Irish Standard for Fire Mains called prI.S.391 due to be published very soon.
Declan has previously received an award, (NSAI,1997 AWARD) in 2019 in recognition of exceptional dedication and significant contribution towards standards development both in Ireland and Europe.
He is delighted to have been nominated and elected unopposed by his peers in the working group.
"I want to express my appreciation to all my colleagues in the working group, I am deeply honoured to have received such a vote of confidence. I look forward to working with members in our shared determination to make this country along with other European countries a safer place to live & work regarding Fire Safety. This is a moment of personal honour for me, but also a deep personal responsibility. I would like to thank the previous chairperson of the committee Mr. Brendan Kavanagh for his work and experience he shared with all his colleagues and myself during his tenure as chairperson. I want to wish him all the best in his retirement from the committee, and to rest assured I welcome the challenge and would hope that during my term in the office as chairperson guiding the debates & discussions I will be firm but fair and have a determination to assist in delivering and achieving our collective results in the area of fire safety protection that the user can fully understand and practically use in his or her field of Fire Safety Expertise."