Car safety kits containing all you need for breakdown or roadside emergency situations are now available from Apex Fire for the low price of just €74.99 (including VAT).
Car Safety Kit contains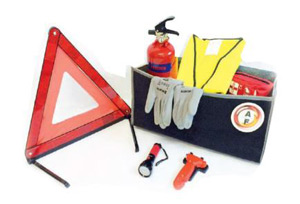 A 2kg dry powder portable fire extinguisher, complete with robust transport bracket and strap (certified with Kitemark/Safety Relief Device)
First Aid travel kit, complete with carry bag
Hand-held and fully weatherproof 28 LED torch, complete with batteries
High visibility vest
Heavy duty large steel warning triangle, complete with plastic cover case
High grip cotton gloves
Steel-tipped vehicle escape hammer, for breaking glass in emergency situations
Zinc-covered seat belt cutter, for use in emergency situations
Please note that the glass-breaking hammer and seat belt cutter should be stored inside the vehicle, with a fixing bracket, so they can be easily accessed in an emergency.
All car safety kit items are CE certified and come in a stylish grey carpet toolbag, complete with hook and loop fastenings that attach to your boot carpet via Velcro strips, to prevent any movement.
---
We encourage everybody to carry one of the car safety kits. Contact us today to order.