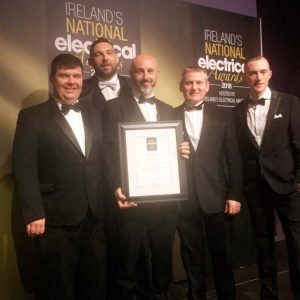 Judges at the inaugural National Electrical Awards have recognised our excellence in the field of Fire & Security services by awarding us 'Highly Commended' status.
All at Apex Fire are pleased with this award, which came in the highly-competitive 'Fire & Security Contractor of the Year' category of the awards scheme. All entrants were judged on their ability to provide solutions to recent challenging projects.
Apex Fire Managing Director, Declan Kelly, said: 'We are proud to receive this award. It adds further to our reputation in the field of fire safety and training. This is a reputation we have worked hard to build up over our 45 years in business so far. We continue to do all we can to provide best-in-class service to all clients, old and new.'
Mr Kelly also paid tribute to all Apex Fire staff who contributed to the company receiving this accolade.