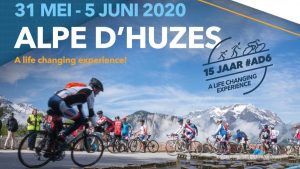 In June 2020 Team Apex Fire as part of the Moyne Roberts Team will be participating in the annual Alpe d'Huzes.
This is a unique experience that involves around 5000 people climbing the Alpe D'Huez by bike, walking or running, up to 6 times in one single day, under the motto 'Giving up is not an option'.
The climb of the Alpe D'Huez starts in Le Bourg D'Oisans. The route is almost 14km long and has an average ascent of 7.9. In total you bridge 1061 meters. The climb has 21 numbered hairpin bends with turn 21 at the bottom and turn 1 at the top.
The Alpe symbolizes the difficult path that cancer patients have to take and by climbing the mountain we feel what it is like to continue on when all we want to do is give up.
The purpose of the challenge is to raise as much money as possible for Cancer Research. The whole event is funded purely by sponsors and registration fees and all of the professionals that work it are volunteers, meaning 100% of any money raised goes direct to Cancer Research, which is fantastic!
As a group, the 'Moyne Roberts Team' will be taking part in the event in June 2020 and our aim is to raise upwards of €2,500 per participant.
At some stage, we have all had some experience of cancer, whether directly or indirectly. It devastates lives & causes no end of pain. Money raised will go towards vital research, in the hope that one day a cure can be found.
If you would like to support Team Apex Fire to donate. We appreciate your support in helping us fight cancer!
To donate, please click the donate button below